Night Golf Haunted Hills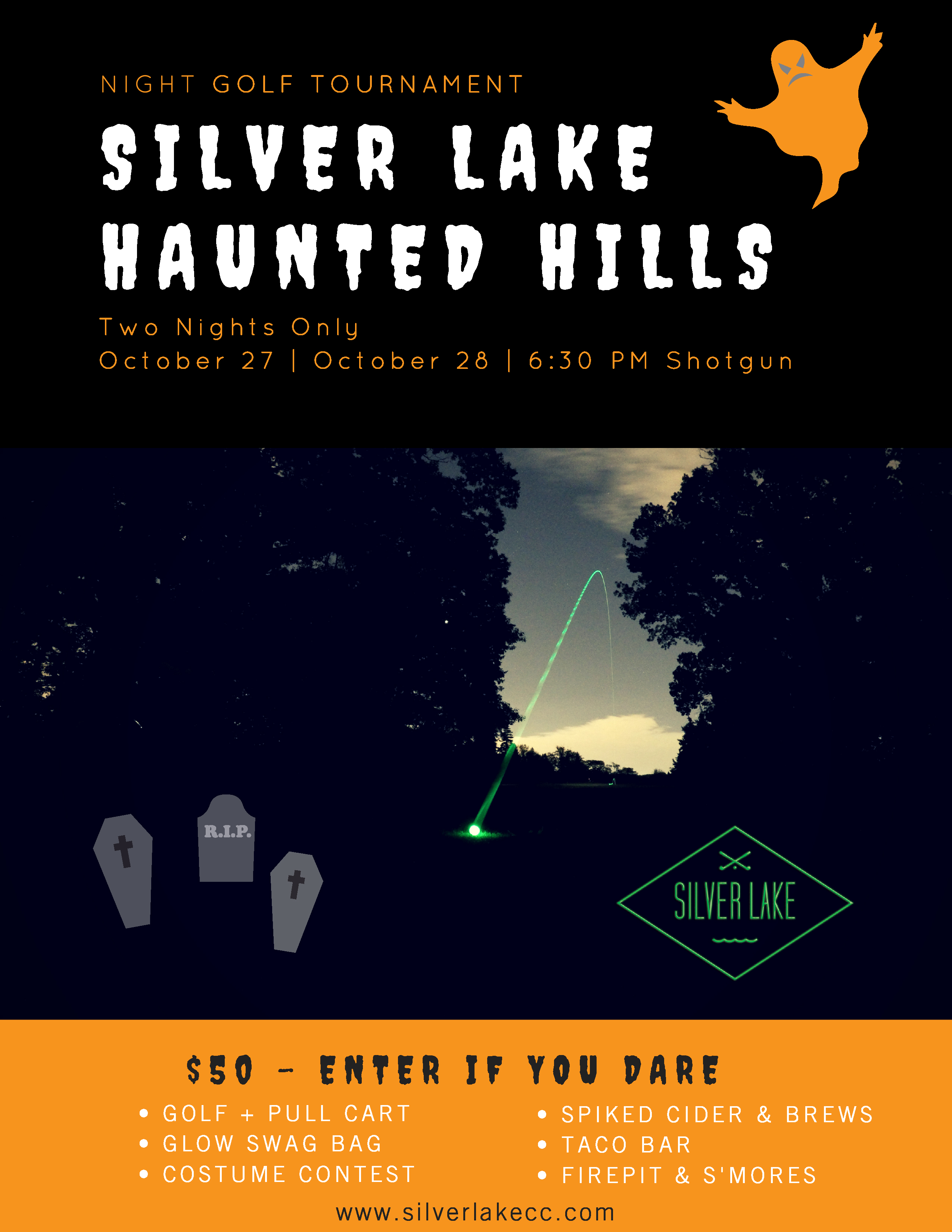 SILVER LAKE NIGHT GOLF HAUNTED HILLS
Night golf just got a little spookier! Join us for the first annual Night Golf Haunted Hills Edition. Wear your best costume and prepare yourself for a night of Glow Golf like you've never experienced. Bunkers and water hazards will be the least of your worries. Keep a watchful eye out for Zombies, Ghosts and Ghouls. Enter at your own risk!
D a t e s :
Friday, October 27th

Saturday, October 28th
T i m e :
Registration: 5:00pm

Taco Bar / Happy Hour: 5pm – 9pm

Depart to Hole Assignments: 6:15pm

Golf: Shotgun Begins at 6:30pm

Awards & S'mores: 9pm
C o s t : $50 Per Person
T e a m s : Teams of 5 players. If you do not have 5 players we can pair you up with a team, no worries! Tournament is limited to 60 players.
I n c l u d e s : Greens Fee, Pull Cart, Glow Pack (golf balls included), Taco Bar, Spiked Cidre, Beer, S'mores, Music, Team and Individual Prizes, Contests on Every Hole, Plus a Costume Contest!
C o u r s e : Rolling Hills (9 holes)
R u l e s :
No Carts. Walking Only

Each player must wear some form of lighted gear (front and back). Silver Lake will provide required

amount for tournament play. Additional glow gear is available for purchase or bring your own! Get

creative!

This tournament will be a scramble format

Pin placement is marked by color Green (front) Yellow (middle) Blue (back)

All players hit from the same tees
P r i z e s :
T e a m
Most Brightly Dressed
Most Creatively Dressed
Best Group Costumes
Most Honest
Low Score
+ More
I n d i v i d u a l
Most Brightly Dressed
Most Creatively Dressed
Best Individual Costume
+ More